IXON Cloud: the Industrial IoT platform that grows with you
IXON Cloud is an end-to-end IIoT solution from hardware to cloud platform, specifically designed for machine builders and system integrators. The IXON Cloud platform stimulates and accelerates the Industrial IoT transition from idea to application. The tools and technology are available in a ready-to-use IIoT platform, allowing you to focus on what you are good at: collaborating with customers, providing service and sharing insights. With IXON Cloud you will continue to add value for your customers throughout the entire life cycle of your machines.
All-in-one solution!
Seamless integration between cloud, edge connectivity and machine.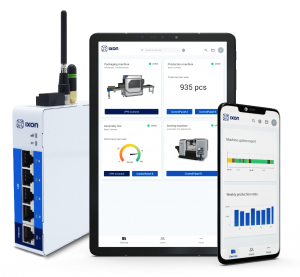 ● Get started with IoT now! Developing is fun, but how are you going to maintain your solution? Choose SaaS and security is guaranteed.
● Higher machine performance! Optimize machine production and decrease unplanned downtime with better insights and faster access.
● Ready for the future! Scalable from remote access to data analysis and predictive maintenance. Set up IXON Cloud completely to your liking.
Get a free product tour of IXON Cloud here.
WORLD'S FIRST NO-CODE IIOT PLATFORM
IXON Cloud is ready for immediate use and suits every machine builder. Whether you're looking for a remote access or remote maintenance solution, want to gain insight into machine data or set up your own IIoT platform.
With its extensive features, IXON offers a complete, proven and secure solution for remote service and IoT. The integrated connectivity ensures a perfectly seamless collaboration between device and IXON Cloud.
REMOTE ACCESS (VPN)
CLOUD DATA LOGGING
DATA VISUALISATION
Instantly connected as if you're next to your machine
Access your machine data anytime, anywhere
Simply put your dashboards with Drag & Drop Widgets
ALARMS & NOTIFICATIONS
USER MANAGEMENT
M2M CLOUD CLUSTER
Receive warnings about important machine events
Personalised rights per user or role
Central monitorning of all your BMS and HVAC systems
IXrouter: The edge gateway to IXON Cloud 
Plug & Play connectivity between machine and IXON Cloud
The IXrouter is a combined Industrial VPN router and IoT edge gateway for end-to-end remote access to any brand PLC/HMI, IPC, robot or IP camera. Connect your machine's PLC controls, HMIs, robots or other industrial devices in your machine to the LAN side of the IXrouter. As soon as the IXrouter has access to the internet, it registers itself on the IXON Cloud, our VPN cloud-service.
Now you have instant access to all remote access and IoT features for fast service and advanced data analysis. Discover all IXON Cloud features.
Contact us today to know more.