JMartans is an authorised Pilz partner in Malta. Pilz Automation has established itself as a technology leader in safe automation technology, offering process automation and a wide range of safety products. This includes Pilz safety relays, configurable safety controllers and programmable safety systems.
Pilz creates automation solutions that optimises the productivity of a facility or plant and does not compromise the safety of the user, machine or its environment.
Safety sensors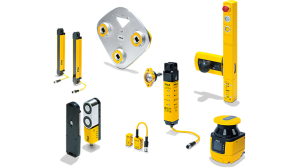 To find out more about our offering of Pilz's safety sensors, click here.
Pilz has an extensive sensor technology portfolio that includes camera systems or tactile sensors, such as pressure-sensitive safety mats and safety switches for monitoring positions, as well as guards.
To meet the demands of the modern smart factory, Pilz has developed its systems so that they can be integrated into a range of applications and technologies. From mechanical to magnetic, or optical to camera-based, productivity and user-friendliness are pivotal to Pilz's safety sensors. This is in addition to the sensors offering:
High availability and productivity with maximum safety
Focus on performance, robustness and simple operation
Protection for your investment thanks to compatibility with products and interfaces from other manufacturers
---
Safety relays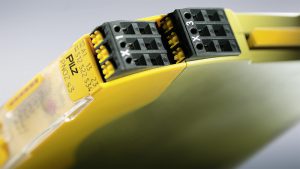 To find out more about our offering of Pilz safety relays, click here.
Safety relays are devices that implement safety functions to reduce the risk between humans and machines as much as possible. This includes the integration of emergency stops, light grids, safety doors and two-hand functions.
Pilz's safety relays are distinguished by a variety of supply voltage ranges, the number of safety contacts, the number of terminals or the ability to plug in terminals. Pilz offers various safety relays for different applications and functions, including:
PNOZsigma, which offers maximum functionality width, with various operating modes and scalability because of its modular structure
PNOZcompact, which is ideal for manufacturers of production machines with high unit outputs.
PNOZpower, which is able to monitor high loads from 8A to 16A and switch motor loads directly

---
Light barrier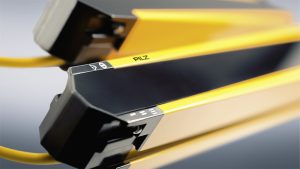 To find out more about our offering of Pilz light devices, click here.
Light curtains protect both workers and products, with an invisible protected field of infrared beams guarding the danger zones. If a light curtain is broken it will immediately trigger a safe shutdown command.
Light curtain devices like Pilz's PSENopt can be used in a wide range of industries including packaging, robotics, automotive, pharmaceutical and food. PSENopt Advanced offers a wide range of features including:
Muting to distinguish between a person and material
Blanking for a flexible and uninterrupted production process
Cascading function for effective protection against encroachment into and behind protected areas
Designed to be slimline, Pilz's light curtain devices are suitable for space-critical applications as well as on doors and gates.
Are you an industrial business or facility manager looking for safe automation technology like the solutions offered by Pilz? Click here to get in touch with us and see JMartans' full range of Pilz Automation technology.