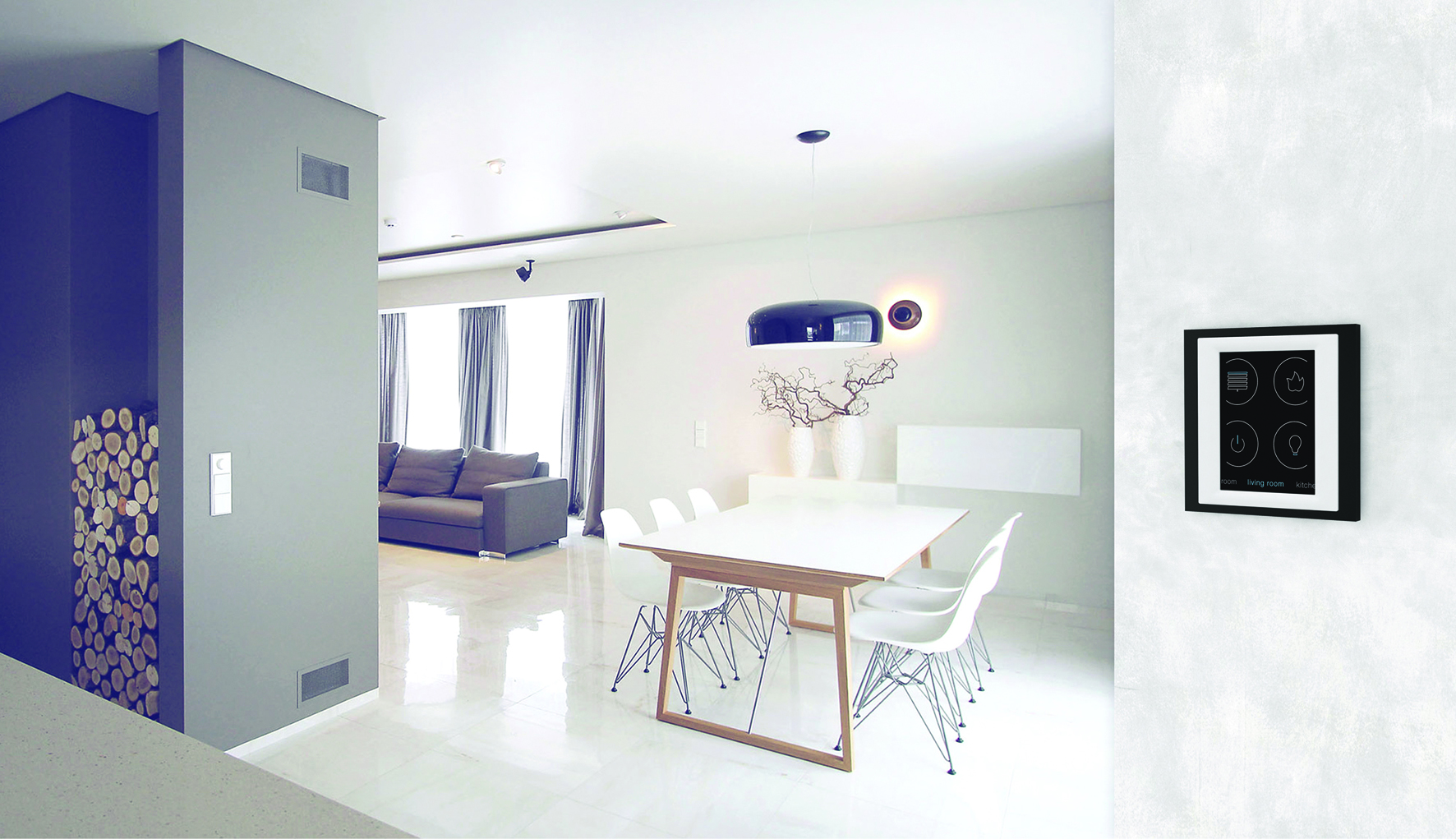 Finding low cost home automation is easier and cheaper than you think. Find out about our special offer on budget smart homes!
Home automation kits are the latest technology installed in houses and buildings to help control lighting, blinds and air conditioning for the purposes of comfort and energy saving. You can have it all with our €3000 package, including VAT.
Are you ready to join the Smart Home Revolution but you are worried about the budget? Have no fear!
Here at JMartans, we have put together an unmissable low cost home automation offer to get you started into the future.
For a limited time only, JMartans is offering the ultimate smart kit to automate YOUR home. It's an ideal solutions for a two bedroom apartment and offer all the basic functions to have a smart home that rocks.
You will recieve:
Control and interfaces
5 wall switches: Wireless and in Premium Design. Benefits of wireless switches include fast installation and control up to any 4 lights.
3 Switch units to control shutters, blinds or curtains. 
5 dimming devices. Designed for dimming various light sources. Smooth dimming or brightening. Setting min. brightness to eliminate flashing LED sources.
1 RF touch screen: Design element with a tinge of luxury fittingly accenting any interior. It will become a central, wireless intuitively controlled home. It controls up to 40 units. Thanks to bidirectional communication, it displays the status of appliances on a coloured 3.5″ TFT display.
2 remote controls in keychain design: pocket control for everyday use. Unique design of the key alarm conceived in the smallest possible design to fit nicely in your pocket and always keep it handy. It can control up to 4 independent devices and switch scenes.
1 Remote control RF Pilot. Here marks the start of Home Automation. The remote controller with OLED color display offers control of up to 40 household appliances. Lights, sockets, garage door, sprinklers, blinds, curtains, etc.
1 Smart box RF. This is the centre of your smart home and the bridge between your smart home and controlled appliances. Thanks to the two-way communication, it visualises the current status of individual units/actuators. Controls up to 40 units. You can connect the HUB via LAN or Wi-Fi. The Smart Box also acts as a mediator for storing data in the Cloud.
Security
2 colour cameras for your home security even when you are out. Up to 10 video cameras can be connected in the App. LAN or Wi-Fi connection. 640×480 px resolution. Night IR illumination. Power adapter: 5V/1A (part of supply)
Installation
Hassle-free installation is carried by trained and experienced engineers, who will follow your instructions on how to set scenes, schedules and ambiences.
Free app for your smartphone and tablet. Through an application on your smartphone, you can control your home while keeping complete track of all its ongoing processes. The phone can control units through the Smart RF Box directly or remotely via the Cloud.
Training: although the system is intuitive and user-friendly, we will gladly talk you through the system so that you'll be able to fully take advantage of your Home Automation.
2 years warranty on equipment for your peace of mind.
In addition, you'll have the option of adding more devices, change functions by simple readjustments and manage setting remotely without needing to actually be on site.
Although we have put a lot of effort to ensure that the proposed solution met the majority of the requirements, we understand that every customer is different and has different needs. Therefore, we have added extra value to our low cost home automation deal by making it FLEXIBLE. For example, you can swap the dimming devices to have more cameras, or reduce the number of wall switches and get extra remote controls. Whatever your idea is, we are here to listen and help you realise your dream home.
Get in touch today. We are just one click away.